Fitness Coach Marianne Weston – Case Study: Shema Begum
Shema came to me on a mission to look slimmer…A happy little lady has lost 14% Body Fat and 3st 11lb..Well done you ?
"I started training with Marianne in a bid to lose weight. What I've achieved with Marianne's help was far more than this. I've lost over 3 and a half stone by doing various workouts like Kettlebells, Circuits, Interval and Weight based training. Not only have I lost the weight, but I'm feeling more happy, confident and motivated than ever.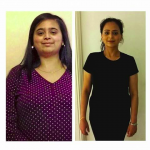 Marianne is a great PT and if you've got any goals you want to meet, she'll definitely get you there, I'd recommend her 100%"
Marianne Weston – Fitness & Nutritional Coach, Trained in Level 3 personal training, Marianne specialises in female weight loss and weight management.
Why not book in for your free health check and taster personal training session, ask at reception today or call 01604 59 29 29
www.dallingtonfitness.co.uk